About Us
---
COMPANY PROFILE
Introduction
DESIGN POINT INTERIORS PTE LTD
An Interior Design Consultancy firm that was established in 2005 in Singapore by its Principal Designer and founder of firm, Cindy Ang.
DESIGN POINT INTERIORS PTE LTD has now a good portfolio of Both Residential and Commercial projects in Singapore and oversea projects in Indonesia and recently China. The scope of work has also increased over the years. The consultancy firm is able to undertake both the Designing of Interior and Interior Architecture projects. Projects were featured in Newspaper, lifestyle magazines, televised both local and China programs. Design Point is awarded and named the Best of Houzz Design Singapore 2016.
The Residential projects include designing studio and condominium apartments, penthouses, bungalows and villas locally and overseas in Bandung, Indonesia and Shanghai, Kunming, Guangzhou of China. The firm has designed commercial projects in the area of hospitality such as cafes & restaurants and retail. Others include ticketing offices, church and Television set designing.
The goal and philosophy of the Design consultancy firm has been to produce creative Interior Architecture work and demonstrate professionalism in the service. It is an important part of our service to remain competitive and knowledgeable in Design. This is a vital role we established with clients.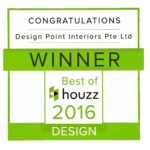 PRINCIPAL DESIGNER, Cindy Ang
Since graduating, Cindy has been an apprentice for the first 10 years. During this period, she has worked in Architectural Japanese and Local firms designing the interior of Hotel projects, Resort Clubs and Interior Design for Residential homes in Interior Design company. She started to receive her own projects and later started Design Point Interior Consultancy doing only homes locally. Design Point Interiors Pte Ltd was formed as a result of bigger and more diversified projects locally and overseas.
Her ability to design various demand of styles is shown in her portfolio. There is always an element of sophistication and simplicity in the design approach even in the most complicated style. The element that is always prevalent in her design is Natural lighting and Inter-relational space between exterior and interior. She looks forward to challenging design projects.
PROJECT REFERENCE
RESIDENTIAL HOMES
Projects: 200 sq m to 1000 sq m.
Singapore: Apartments, Detached Houses and bungalows and Villas. Design works featured in magazines, Newspapers and also TV program.
Overseas: Villas in Indonesia, Shanghai and featured in Shanghai television.
Award:  We won the Best of Houzz 2016! The Design award recognizes the high quality of our work and the popularity of projects we have uploaded to Houzz profile: http://www.houzz.com/pro/interiorsdp
COMMERCIAL
RETAIL & HOSPITALITY
Spuds & Aprons at Mt Faber, 6 Outlets of McDonalds' Restaurant, Indian restaurant Celebrity
Chef in Singapore, Café Galilee, Sweet touch and 8 outlets of Coffee & toast café in Singapore
Malls and Library, Canon Retail shop
OFFICES

Ticketing Office, Showroom & Reception Namely China Eastern Airline Ticketing Office Petal,
Productions, SIA ticketing office
SET DESIGNING

ESPN Sports News
OTHERS/RELIGIOUS
Marine Parade Christian Centre Church; Pre schools and kindergartens